What exactly is a Smile Makeover?
Not a quick and easy answer. Many one step procedures, such as teeth whitening will provide someone with the smile they have always wanted, because their existing teeth are already healthy and straight. However, if your teeth require more than a basic procedure to achieve a healthy beautiful smile, then a smile makeover may be the treatment plan that is right for you.
A complete smile makeover involves not only improving your smile, but also restoring teeth, bite, and muscles to their natural position. After a thorough examination of your teeth, Dr. Bennett will consult with you about what options you might want to consider and let you know what will work the best for you.
A smile makeover may include a combination of the following dentistry procedures:
Teeth Whitening
Porcelain Crowns/Bonding
Porcelain Veneers
Porcelain Fillings
Neuromuscular/TMJ Correction
Dental Implants
Orthodontics
Restorative Dentistry
For an amazing smile from Pacific Coast Dental
Call 250-383-0123 for an appointment!
Related Smile Makeover Articles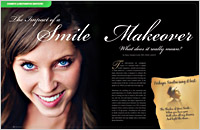 The Impact of a Smile Makeover
Americans are catching on to the emotional and social importance of a healthy, beautiful smile, and they're seeking out ways to improve their smiles. Learn why and what a change could mean for you… Read Article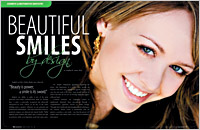 Beautiful Smiles by Design
The first in a series of articles dedicated to the "art and science" of designing a more appealing smile. One of the country's foremost leaders in cosmetic dentistry discusses how you and your dentist partner to create a great new look… Read Article