Now Available For Everyone!
A smile is an important part of our personality and is enhanced by beautiful teeth. Thanks to advances in material and techniques, treatment is available to all. In its simplest form, cosmetic dentistry can simply be keeping your teeth clean or replacing a silver/black (amalgam) filling with a white (tooth coloured) filling.
Dr Michael Bennett, a highly skilled dentist with extensive training and continuing education in cosmetic and restorative dentistry from the renowned LVI (Las Vegas Institute for Advanced Dental Studies) loves all aspects of dentistry, but he especially enjoys challenging and complex 'smile makeovers'. 'There is no greater reward than seeing a client attain ultimate dental health and a new found confidence in their appearance'. The more complex, the greater that response is. Dr. Bennett masters the art of cosmetic and restorative dentistry.
What can cosmetic techniques that you know as teeth whitening, porcelain veneers, implants, crowns, tooth coloured fillings, orthodontics and smile makeovers do?
Improve your teeth's appearance by covering intrinsic stains
Change the shape or size of teeth
Correct the position and spacing between teeth
Repair chipped, cracked or worn teeth
Strengthen weak teeth
Replace missing teeth, permanently
For a beautiful smile
Call 250-383-0123 for an appointment!
Related Cosmetic Dentistry Articles
Cosmetic Dentistry – A Time For Change
Join us as we review the myriad of possibilities available to you for cosmetic dental change. But the biggest part is not just how your smile looks, it's how you feel when you show it… Read Article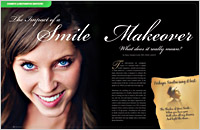 The Impact of a Smile Makeover
Americans are catching on to the emotional and social importance of a healthy, beautiful smile, and they're seeking out ways to improve their smiles. Learn why and what a change could mean for you… Read Article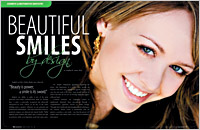 Beautiful Smiles by Design
The first in a series of articles dedicated to the "art and science" of designing a more appealing smile. One of the country's foremost leaders in cosmetic dentistry discusses how you and your dentist partner to create a great new look… Read Article
How And Why Teeth Wear
Are teeth supposed to last for a lifetime? And are humans designed to live for up to a hundred years? Given all the current improvements in the areas of medicine and health, both general and oral, people are not only living longer, but they are also keeping their teeth longer. This article will provide an overview of the "oral system" and one of its more common and important occurrences, tooth wear… Read Article